The 2021 Grid!!
Activities Available
Due to the ever flowing landscape of COVID there may be changes to the program with little notice given.  We will be responding to guidelines as required.  Please be patient with our volunteers.
PLEASE PROVIDE LUNCH FOR YOUR CHILD.  Lunches will not be available for purchase at Wipeout 2021.
ITEMS OF NOTE
ICESKATING- Previously a full day activity it is a PM only activity for 2021 due to venue changes.
MOVIES PLUS – travel to Southbank for this activity will be via the train again in 2021.  Cost covers train fare and movie.
SHORT FILM – This activity will be a 2 day activity in 2021 – please only sign up for this if child can do both days.  This activity will see participants devise, script, shoot a short film in the 2 days using resources available onsite.  A media release for must be signed to participate as the video will be shared on social media and website.
SAILING – Participants need to provide their own lunch and snacks for this activity.  Sunscreen, hat and water bottle also recommended.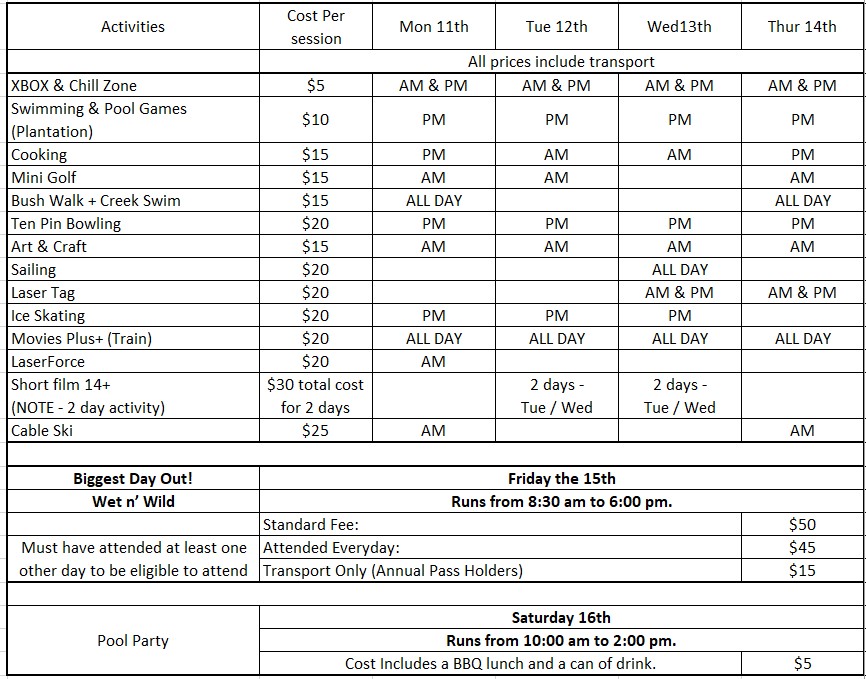 Cost is per session – for example a XBOX & Chill Zone will be available in the morning and afternoon (AM&PM) each day.  Each session costs $5.  To do it twice in one day would cost $10
Lunch can be purchased at the following activities:
Movies Plus – Southbank
Ice skating – Canteen on site
Ten Pin Bowling – Canteen on site